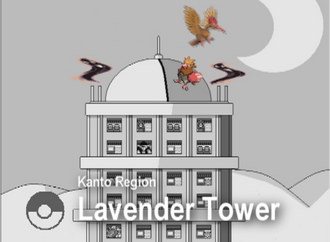 Lavender Tower is Missingno's Home Stage in Lawl.
The stage itself mains as having all of its platforms being completely solid.
An Spearow can be seen on the Background, as well as two GHOSTS leaking from the chimney as smoke.
Fearows and Pidgeottos often appear in the BG, serving as moving platforms.
The stage itself shows up with a Black/White atmosphere, even having colored Pokémon on it.
A Team Rocket Grunt can be hardly seen on the last floor, in a window.
The stage's name comes from the Kanto Region itself and from Lavender Town's Tower. Tough it was named
Pokémon
Tower. Sperows, Fearows and Pidgeottos come from the route at the north of Lavender Tower, where many Pidgey and Spearow can be found. Ghosts originate completely from PKMN Red/Blue, being the exact same shape from those games. Altough these ones move like smoke, just like the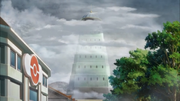 Ghosts in Fire Red/Leaf Green and Pokémon the Origin.
The tower itself seems based on the design from PKMN FireRed/LeafGreen and PKMN the Origin, tough the coloring is different, being comepltely white rather of being pale green. The Roof is also different, because there is a PokéBall shape on it, mostly based on Heart Gold/Soul Silver's Design.
There is currently one trophy about the Lavender Tower itself.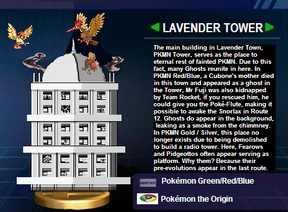 How to get:
Clear the Event: "Do you believe in Ghosts?"
Characters: Missingno (Player) 2 lives , Kaonashi (Enemy) 2 lives
Stage: Lavender Tower
Mission: Perform a Kruel KO on Kaonashi.
-Pokémon Beta Medley (In the video in this
page)
-Pokémon Red/Blue: Champion Battle
-Pokémon RedBlue: Wild PKMN battle!