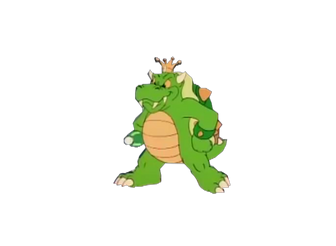 Write the first paragraph of your page here. King Koopa is a 5th Moveset from Kirb- Star's Smash Bros Lawl. He used to toss vegetables and projectiles making Mario defeated on a final battle.
Ground attacksEdit
Neutral attack - Throws with his vegetables.
Dash attack - ???????
Forward tilt - ???????
Up tilt - ??????
Down tilt - ??????
Forward smash - ??????
Up smash - ??????
Down smash - Same has Trip Attack.
Ledge attack - ???????
100% ledge attack - ???????
Floor attack - ???????
Trip attack - Whacks the oppenents on his back.
Aerial attacksEdit
Neutral aerial - Tosses his vegetables upward.
Forward aerial - ???????
Back aerial - ???????
Up aerial - ???????
Down aerial - Gets oppenents on his back.
Grabs and throwsEdit
Grab - Grabs the oppenents as same as Billy Mays's Grab.
Edit
Pummel - Pushes oppenents back.
Forward throw - Tosses oppenents upward.
Back throw - Uses oppenents around here.
Up throw - Summons a koopa robot.
Down throw - Gets oppenents making it, make the enemy fly off the stage.
Special MovesEdit
Neutral B: Wand Rise (Get Them!)
Edit
Side B: Summons of Koopas (Maybe?)
Edit
Up B: Jump
Edit
Down B: Geeky Breath
Edit
Final Smash: Rock TV
Edit
Ad blocker interference detected!
Wikia is a free-to-use site that makes money from advertising. We have a modified experience for viewers using ad blockers

Wikia is not accessible if you've made further modifications. Remove the custom ad blocker rule(s) and the page will load as expected.